Home
Date and time: 18 Dec 2017 2:46 PM
Wishing you a

Merry Christmas 
and
Happy New Year
We hope 2018 is full of
brilliant research finds.
HOLIDAY CLOSURE
QFHS Library and Resource Centre
will close on Sunday 10 December 2017 at 4.00 pm
and reopen on Monday 8 January 2018 at 6.00 pm.
---

QFHS has purchased a subscription to MyHeritage.
This exciting initiative enables financial members to access
MyHeritage
at the library and from their home computers
via the QFHS website.
MyHeritage can help you with your genealogy search.
Its genealogy search engine allows you to search
thousands of databases simultaneously.
In one search, you can cover multiple spelling
variations, phonetic synonyms, and much more.
 Note: If you are a financial member of QFHS but have not advised your email address you will be unable to access MyHeritage on your home computer. To update your contact details email membership@qfhs.org.au
---
on QFHS Membership
(expires 31 December 2017)
Pay only $66 (single) or $99 (family)!
---
 Services to Family History Awards
2017
Two awards for
Services to Family History
were presented on Wednesday, 15 November 2017.
Pam Masel (pictured) was recognised for
excellence in coordinating our library acquisitions.
Margaret Shand was recognised for
outstanding work in indexing for the QFHS publications. 
Margaret was unable to attend the presentation.
---
2017 Pre-Separation Awards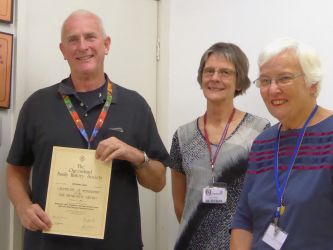 Graeme Lean receiving his
Pre-Separation Certificate
on Wednesday 18 October 2017 with 
QFHS Pre-Separation Group Convenors
Jenny Davidson and Ann Swain 
---

---
See more of our news
on our News Page