Home
Date and time: 25 Sep 2017 7:37 PM
Membership Renewal
 If you prefer to renew by direct debit the details are available here

---

FamilySearch Update
As you know, FamilySearch discontinued its 80-year-old microfilm distribution service. Read more>>>
You may also know that FamilySearch makes its digital image collections accessible on the FamilySearch website.
We are pleased to announce that, as a FamilySearch Affiliate Library, our members may now access a range of digitised microfilms using the computers at our Library and Resource Centre.
Read more here: FamilySearch Digital Images
---
QFHS visits North Stradbroke Island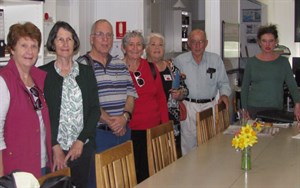 On Monday 28 August, QFHS members enjoyed
a guided tour of the Stradbroke Island Museum and the remains of the Benevolent Asylum operated at Dunwich from 1865 to 1946. The Curator, Elizabeth Gondwe, spoke about the ongoing battle to preserve the early history of the island.
---
---
Queensland Family Historian
Nick Vine Hall Award
Runner-up
Marg Doherty (AFFHO) presenting Kevin Haley 
with the
Runner-up Award 2017
for the
Queensland Family Historian
Category B (larger societies)
Congratulations to our editor
Lyndal Cosgrove and her team.
See more of our news
on our News Page