Family Tree Maker® (FTM) User Group
Description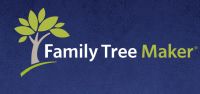 The Family Tree Maker (FTM) User Group shows members in a user-friendly way what they can achieve using the program to display their family trees. At our meetings we discuss a topic related to FTM. For example, the topic may be Reports: how they are made up and how users can set them up. Your suggestions or questions about the day's topic (or anything else about FTM) are welcome.
At each meeting, we demonstrate the FTM program. If you wish, bring your personal computer, tablet or smart phone and follow us on the big screen. If you want to purchase a copy of the program, both the Windows and Mac versions are available through the Bookshop. 
Meetings
Our enthusiastic group meets on the first Friday of every month, except January  between 10.00 am and 11.30 am. 
We also hold meetings  on the last Saturday in February, April, June, August, and October between 10.00 am and 11.30 am.
All meetings take place at:
QFHS Library and Resource Centre
58 Bellevue Avenue
Gaythorne, Qld
Next Meetings:
27 Apr 2019
03 May 2019
07 Jun 2019
29 Jun 2019
05 Jul 2019
Convenors