News
2017 Pre-Separation Awards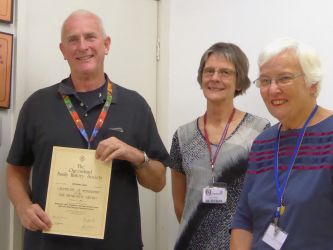 Graeme Lean receiving his
Pre-Separation Certificate
on Wednesday 18 October 2017 with 
QFHS Pre-Separation Group Convenors
Jenny Davidson and Ann Swain 
---

FamilySearch Update
As you know, FamilySearch discontinued its 
80-year-old microfilm distribution service.
Read more>>>
You may also know that FamilySearch 
makes its digital image collections accessible
on the FamilySearch website.
We are pleased to announce that, as a
FamilySearch Affiliate Library,
our members may now access a range of
digitised microfilms using the computers
at our Library and Resource Centre.
Read more here: FamilySearch Digital Images
---
Queensland Family Historian
Nick Vine Hall Award
Runner-up
Marg Doherty (AFFHO) presenting Kevin Haley 
with the 
Runner-up Award 2017
for the
Queensland Family Historian
Category B (larger societies)
Congratulations to our editor
Lyndal Cosgrove and her team.
---
QFHS visits North Stradbroke Island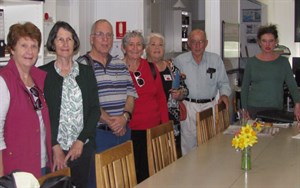 On Monday 28 August, QFHS members enjoyed
a guided tour of the Stradbroke Island Museum and the remains of the Benevolent Asylum operated at Dunwich from 1865 to 1946. The Curator, Elizabeth Gondwe, spoke about the ongoing battle to preserve the early history of the island.
---
QFHS Book Award 2017 
QFHS Book Award Winner, 2017
John Field
Boots, shoes, and seeds: the life of Peter Field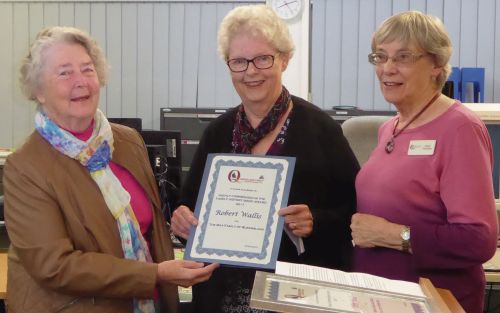 Meryl Wallis and Desley Telford with Gayle Thomsett accepting
Highly Commended Award
on behalf of Robert Wallis, for his book, 
The May family of Queensland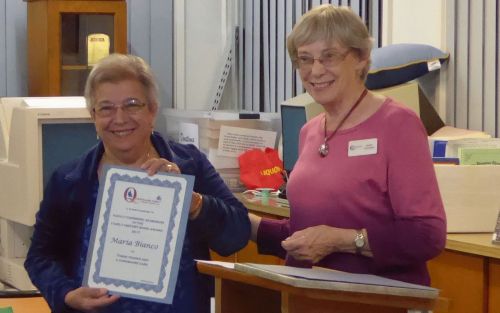 Maria Bianco with Gayle Thomsett accepting her award for
Highly Commended Award for a Memoir
for her book
Three trunks and a cardboard case
---
2017 February-March
Finding Your Family Graduates
Monday 20 March 2017
Standing: Rhonda, Robyn, John, Michael, Patricia, Robert, Merilyn.
Seated: Toni, Mary.
---
Our New Fellows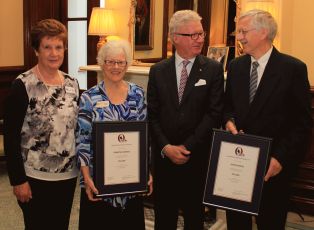 QFHS President Bev Young, QFHS Fellow Dorothy Jeffrey,
QFHS Patron, His Excellency, Governor of Queensland, 
the Honourable Paul de Jersey AC,
QFHS Fellow John Perryn.
---
Mitchelton State School Centenary

Mitchelton State School Admissions 1916-1997
listing for the Infants and State School admissions
in alphabetical and register order.


Available from QFHS at $10 each,




plus $3 postage and handling




Email 

bookshop convenor

 to purchase.

Rosemary Kopittke, Dorothy Jeffrey, and Eric
Kopittke celebrating the launch of the CD on
Saturday 22 October 2016 
---
New release

Queensland School Pupils Index Part 6 - QSPI6


The latest QFHS publication was launched on Friday 19 August at The Queensland State Archives.
The series now covers 2.4 million entries from more than 1200 schools.
Rosemary Kopittke, QFHS Publications Team member, presents a copy of QSPI6 to Kit Kugatoff, Director of Collections and Access QSA. For more information click here 
---
Nick Vine Hall Presentation
The Nick Vine Hall Award is awarded annually to member societies (in two categories based on membership)
for the best family history journal/newsletter in Australia and New Zealand. AFFHO provides this award to encourage its member societies to produce quality journals/newsletters, and to honour Nick Vine Hall AM.
This year QFHS were awarded the runner-up prize in Category B (societies with over 500 members) for the Queensland Family Historian, Vol 36, No1, February 2015.
Congratulations to our Journal Editor and her team
QFHS President Bev Young
accepting the Award from
Geoff Doherty, AFFHO. 
---
1894 and 1897 Women's Suffrage Petitions now available online to all,
thanks to QFHS volunteers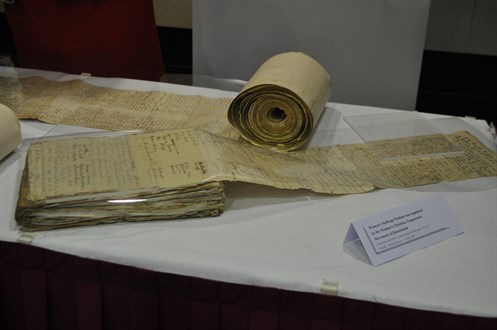 In 1894 the Women's Equal Franchise Association (WEFA) initiated a double petition – one for women to sign and the other for men – which played a key role in galvanising support for the women's suffrage movement across Queensland.
A second group of women through the Woman's Christian Temperance Union canvassed support again in 1897. 
Through a project organised in a partnership between the late Dr John McCulloch, Dr Deborah Jordan and the Queensland Parliament, and with the contribution of the Queensland Family History Society, these petitions have been digitally transcribed and developed into a database that is available to the public.
A wonderful resource for girls, women, genealogists, and historians both in Queensland and across the globe.
To view the signatories to the Women's Suffrage Petitions go here
For more information on QFHS involvement in the project from start to finish go
 here
Congratulations to the many people involved in making this happen.
---
---