Queensland Pre-Separation Group
Description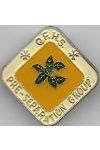 The Queensland Pre-Separation Group (QPSG) focuses on the pioneers who lived in the area which became Queensland before its separation from the Colony of New South Wales on 10 December 1859
Group Objectives
• To perpetuate the memory of and increase awareness of the part played by the pioneer settlers of Queensland.
• To compile biographical and genealogical data of Queensland pioneers and their families.
• To preserve material that illustrates aspects of pioneer settlement in Queensland.

Members who have at least one ancestor who lived in Queensland pre-separation (i.e. before the 10 December 1859) may apply to become a Certificate Member of the Pre-Separation Group. Further information about the group and the forms to apply for a certificate are available here.
Meetings
Convenors
For further information, please contact the convenors: Ann Swain and Jenny Davidson