Queensland Family Historian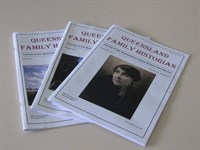 The QFHS journal Queensland Family Historian is published quarterly and distributed to all financial members of the Society. An annual subscription to the journal may be purchased separately here.
In our journal, you will find articles, news, and other items of interest.  We welcome submissions for inclusion in the journal. Please check out further information on Journal Submissions.
Articles may include any of the following:
family histories
notices of reunions
historical or other interesting stories
information about library resources or research skills
recently acquired resources for the library
Members may submit their lists of names being researched to the Register of Members Interests section of the journal or advertise for help wanted.
QFHS also accepts advertising in the Queensland Family Historian.
For further information please contact the Editor.