QFHS Membership Renewal links
---
August is National Family History Month
OPEN DAY @ QFHS
'family traditions'
During August let's celebrate our families past and present.
Come along, bring a friend and join us for a cuppa.
Have a chat about how to connect with your family history
no matter where they came from.
Check out our resources and Special Interest Groups
See you on Saturday, 24 August, 2019
10.00am to 3.00pm
58 Bellevue Avenue, Gaythorne
---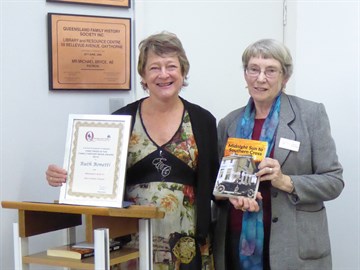 QFHS Book Award 2019
presented to
Ruth Bonetti 
pictured here with Book Award Coordinator, Gayle Thomsett 
at the 
QFHS Annual General Meeting 
---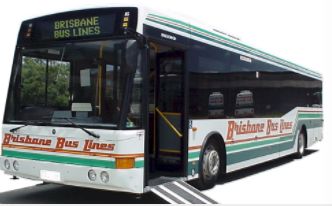 Do you have an interest in the Toowoomba
Darling Downs region of Queensland?
QFHS and GSQ will join for the day to take
a bus trip to Toowoomba.
Tuesday, 8 October 2019 8.00 am to 4.00 pm
---
Our Future 
The Management Committees of both QFHS and GSQ are in early, but active, discussions regarding possible amalgamation of the Societies.
The second communique about this important issue is presently being sent to members. It addresses member feedback on the issue and outlines the amalgamation process.
Future Communiques will continue providing regular updates on the discussions and investigations.
Members can read more here along with details of how to have your say.
---
Our Stategic Plan
Members can read Our 2015-2020 Strategic Plan Update here. 
---

QFHS has purchased a subscription to MyHeritage.
This exciting initiative enables financial members to access
MyHeritage
at the library and from their home computers
via the QFHS website.
MyHeritage can help you with your genealogy search.
Its genealogy search engine allows you to search
thousands of databases simultaneously.
In one search, you can cover multiple spelling
variations, phonetic synonyms, and much more.
 Note: If you are a financial member of QFHS but have not advised your email address you will be unable to access MyHeritage on your home computer. To update your contact details email membership@qfhs.org.au
---
NEW
Colonial India and Far East
Special Interest Group

Join us exploring the lives of individuals and families in Colonial India and the Far East and the places and times in which they lived.
Colonial India at various times included: India (including the areas now known as Pakistan and Bangladesh), Ceylon (Sri Lanka), the Nicobar and Andaman Islands, Assam, Burma (Myanmar), Kashmir, and the Persian Gulf Residency.
The group meets on the second Sunday of February, April, June, August, October, and December.
---

---
See more of our news
on our News Page