New Opening Hours
As from Monday 9 January 2017, the QFHS Library and Resource Centre will be changing the opening hours on Mondays and Saturdays, as follows:
Monday
2nd and 3rd Monday of the month: open 6.00 p.m. to 9.00 p.m.
1st, 4th, and 5th Monday of the month: closed all day.
Saturday
Every Saturday: open 10.00 a.m. to 4.00 p.m.
Opening hours on Tuesday, Wednesday, Thursday, and Sunday are unchanged.
See our opening hours here.
---
Our New Fellows
 QFHS President Bev Young, QFHS Fellow Dorothy Jeffrey,
QFHS Patron, His Excellency, Governor of Queensland,
the Honourable Paul de Jersey AC,
QFHS Fellow John Perryn.
---
2016 Award for
Services to Family History
Lurline Gedge
---
Everton Volunteer Recognition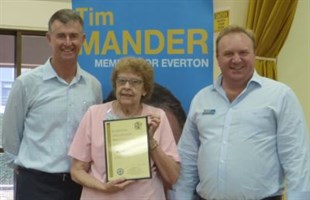 Sunday 13 November 2016
Bev Bonning
received an
Everton Electorate Volunteer Recognition Award
for her untiring work for QFHS
Bev is pictured with Tim Mander MP, Everton (left)
and Andrew Wines, Councillor, Enoggera Ward (right). 
---
QFHS receives Nick Vine Hall Award for Queensland Family Historian
More information here 
See more of our news
on our News Page