QFHS visits Caloundra Family History
Research Inc.
Every year, Caloundra Family History Research visits the QFHS Library and Resource Centre at Gaythorne.
This year, a group of QFHS members travelled to Caloundra on a reciprocal visit.
Caloundra turned on perfect spring weather. QFHS and CFHR members visited the lighthouses at Caloundra, followed by a delicious fish lunch at Golden Beach.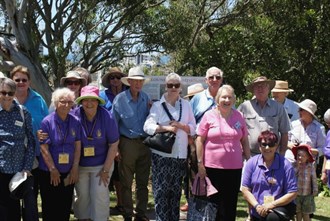 ---

Entries for the 2017 QFHS BOOK AWARD will close on 30 November. This award is given annually for the best book submitted about a predominantly Queensland family, published within the past five years.
Entries remain the property of QFHS, adding to the rich resource of the Society's Print Library.
For guidelines, conditions and entry form click here
---
New release!

 

Queensland School Pupils Index Part 6 - QSPI6


The latest QFHS publication was launched on Friday 19 August at The Queensland State Archives.
The series now covers 2.4 million entries from more than 1200 schools.
Rosemary Kopittke, QFHS Publications Team member, presents a copy of QSPI6 to Kit Kugatoff, Director of Collections and Access QSA. For more information click here 
---
Finding your family: 
a beginners course in research
This six week course will be very comprehensive for someone wanting to start researching their family history, but unsure of the process. Content will include home sources,organisation, BDM certificates, archives, libraries, newspapers, overseas research, and much more.
Registrations will be limited to 15 people.
More information here 
---
QFHS receives Nick Vine Hall Award for Queensland Family Historian
More information here 
---
The National Library of Australia's premier newspaper archive Trove will have to cease adding to its collections after not being granted funding in the recent Federal budget. The National Library of Australia will be forced to shed staff and will not be able to aggregate more content to the site.
Family historians have embraced the many aspects of the Trove website, particularly the free and unparalleled access to metropolitan and regional newspapers and magazines. As it stands, the Trove website sets a gold standard in historic newspaper access.
You can sign a petition here 
See more of our news
on our News Page