Fortune and Misfortune: Parish Chest, Poor Law, and Bankruptcy
When: 2 August 2014 - 9.00 am to 12.30 pm
Where: Queensland Baptists Conference Centre, 53 Prospect Road, Gaythorne

Cost: $15.00 members and $20 non-members (includes morning tea)
 Presenters: Bev Bonning, Sue Reid, and Chris Schuetz
The Parish Chest and Poor Law. The records from the Parish Chest provide a contemporary and revealing insight into the social fabric of the parish and how the parish dealt with issues of providing relief to the poor, aged, and infirm. With the creation of the Poor Law Unions in the 1800s, this responsibility passed to civil administration with its resulting copious and detailed record keeping.
Mid-Nineteenth Century Bankruptcy in England. This presentation will examine the difference between bankrupts and insolvent debtors, and look at some available sources to discover more information about those people unable to pay their debts.
Mid-Nineteenth Century Bankruptcy in Australia: an untapped source of information for family historians. For some, bankruptcy was just a part of doing business but it could also change lives—and for us—leave a paper trail. This presentation will look at some examples of personal and corporate insolvency and show how these records can enrich our knowledge of our ancestors' lives.
If you do not wish to book online, you can download a registration form here.
---
Read about our
on 20 July 2014
---
Open Day
Your family tree—more than just names and dates
Let us help you find some answers on Open Day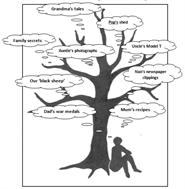 QFHS Library and Resource Centre
58 Bellevue Avenue, Gaythorne
23 August 2014 - 10.00 am to 3.00 pm
Learn from our experts how to find out more about your family: their lives, loves, and losses. What is the truth behind that family story, that old photograph, that box of letters? Our members will show you through our Library and Resource Centre, introduce you to our many skilled family historians. We will explain to you how our books, maps, indexes, and many more resources may assist to add fascinating detail to your family tree.

---
Renew your Membership
Alternatively you can download a printable copy of our Membership Renewal Form by clicking here.
---
See more of our news on our News Page