Burial in Queensland: both an end and a means
Presenter: Dr Kerry Raymond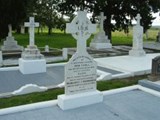 Please note: This session will be delivered online.
Register using Eventbrite. Details of how to join the session will be sent via email.
Kerry will explain how death and burial practices have changed in Queensland over time, and therefore what resources you may be able to use to find fascinating clues to advance your family history research.