The 1939 Register: why is it invaluable?
Presenter/s: Dr Penny Walters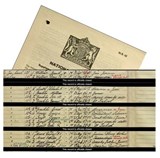 The UK 1939 Register was used to produce 40 million Identity Cards during World War II, when rationing was introduced.
The Register provides a huge bridge between the last published census (1911) and 1939. People were more honest in their information-giving, providing exact date of birth and relationships, as they wanted their rations.
From 1948 the Register was used as the National Health Service Register, and was updated until 1991, giving women's new surnames when they got married, hand written above their name.
The online UK 1939 Register is a relatively unknown tool for genealogists from outside the UK.  
Our speaker: Dr Penny Walters