Researching land records in Queensland
Presenter/s: Kaye Nardella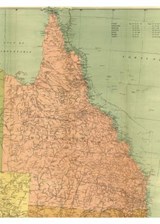 Kaye Nadella has worked part-time as an archivist with the John Oxley Library and part time with the Department of Natural Resources and Mines. She took up a full-time position with this department in 2004 and she was appointed senior curator of the Museum of Lands, Mapping, and Surveying in 2007. Read more>>>
Understanding land ownership in Queensland. This session describes key components of land ownership including administrative areas, property description, and tenure. Kaye will provide guidance on where to look for information on land ownership including maps, survey plans, and land records.
Online resources to assist with historical land research. Kaye will describe a number of departmental online resources including Open Data, QImagery, QTopo, Queensland Globe and GSQ publications that can help with historical land research.  With regard to Open Data and historical maps, details will be provided about the different types of maps, the types of information they can hold, and how to locate them.
Historical land research in action. Kaye will give examples that capture the whole researching land ownership in Queensland process bringing together the material referred to in the first two sessions.