Putting your ancestors in their place: ten steps to a one place study
Presenter/s: Dr Janet Few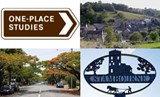 Family historians normally focus on their own direct ancestors, but these ancestors did not live in isolation. They had neighbours and workplaces, they lived in villages with churches, schools, shops, and institutions. In order to understand families of the past, they need to be 'put in their place' by investigating the localities of which they were a part.
One-Place Studies differ from traditional local histories in that they focus on people, their relationship to their communities and to each other; bringing family and local history together, to the benefit of both fields. A One-Place Study involves dissecting a small, definable, geographical area to examine the individuals, buildings, and processes of the past in as much detail as possible.
These studies are undertaken by individuals, or groups who have an interest in the history of a particular community, be it a parish, town, hamlet, or a single street.
This talk describes ten steps that you might take in pursuit of this exciting branch of historical research, wherever in the world your place might be.
Our speaker: Dr Janet Few