Talking about ... postal and telecommunications.
Presenter: Nancy Edwards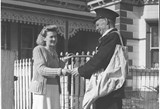 Knowing about postal and telecommunication history can help us complete the time line of our own family tree.
How many mail deliveries per day were there 100 years ago?
How long did mail take to get to the front in World War One and what birth, death or marriage notice was delayed, or even lost entirely?
Which Post Offices have changed their names and why, leading to us being unable to locate our ancestors on a map?
Were telegrams from friends and family unable to attend read out by the best man at your wedding?
Which country imports more than 75,000 metric tons of mail per year?
In September the National Archives of Australia presented a talk to the Queensland Family History Society titled You've got mail: Cobb & Co. Did this talk result in a success in tracing your ancestors? Did the talk raise even more questions? Bring your successes and questions along to this chat to see if anyone can help you, or if you can help someone.
Join Nancy Edwards in her last Talking about ... before Christmas. A representative from the Postal-Telecommunications Historical Society of Qld Inc will also be in attendance to contribute to the discussion.
Please note. A "Talking About" session is a discussion group where everyone is given the opportunity to contribute by sharing their knowledge and experience, through asking questions and/or giving opinions and answers. It is not a presentation. It is open to all levels of experience, no question is too silly to ask.
As these sessions have a limited number of tickets to ensure everyone gets their chance to participate in the discussion, if you are booked and realise you are now unable to attend, please advise us so we can reallocate your ticket to someone on the waitlist.
This event will be held at 10 am Queensland, Australia time (AEST, no daylight saving)