Talking about ... Metalsmiths Past and Present
Presenter: Nancy Edwards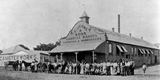 Metalsmithing encompasses some trades that are almost obsolete, and some that have joined the computer era. Were your distant ancestors blacksmiths? Were your colonial ancestors tinsmiths? Do you have fitters and turners in your family today?
Have you found a poem written about your smithy ancestor? Do you have words of wisdom to pass on about how to find apprenticeship or guild papers? Have you inherited a precious example of your relative's work? 
Please note. A "Talking About" session is a discussion group where everyone is expected to contribute through sharing their knowledge and experience, through asking questions and/or giving opinions and answers. It is not a presentation. It is open to all levels of experience, no question is too silly to ask.
As these sessions have a limited number of tickets to ensure everyone gets their chance to participate in the discussion, if you are booked and realise you are now unable to attend, please advise us so we can reallocate your ticket to someone on the waitlist.
This event will be held at 10:00 am Queensland, Australia time (AEST).