Zotero: your personal research assistant
Presenter: Sue Reid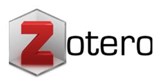 This is a hands-on workshop.
Zotero is a free, open-source, easy-to-use tool to help you collect, organize, and cite research.
Zotero helps you organise your research in a way that suits you. You can sort items into collections, create tags with keywords, and add notes. 
Zotero instantly creates references and bibliographies for any text editor, and directly inside Word, LibreOffice, and Google Docs.
You can format your work to match any style guide or publication.
Collect all those websites you need to read at a later date, file all those handouts from presentations, have your own collection of newspaper articles and more.
Presenter: Sue Reid
Notes:
If you are not using Zotero already, please download the software prior to the workshop. You will also need to install the appropriate Connector.