Finding the family farm: Using land records and maps for Queensland pastoral properties
Presenter: Charlotte Sale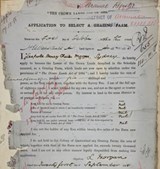 Keen to know when your family first settled in an area? When they acquired the property? Who held it before them? Land records can answer these questions and much more.
Learn how to use historic maps to locate a property, to identify the right land files, and to locate those files at the Queensland State Archives.
Find out how to interpret the contents of the files when you see them.
Discover the difference between a pastoral run and a grazing farm, and between a resumption and a selection. Learn where to find the 'rules' that governed who got what land and under what conditions.
This talk will help you access a source rich in historic documentation for a place, a family, and a community.
Our Presenter: Charlotte Sale