[Citation needed]
Presenter: Dr Kerry Raymond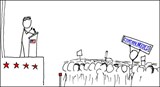 In any family history research or reporting, we need citations to identify our sources. You may be familiar with this process using other terms, such as "references", "bibliography", "footnotes", "attribution", and "acknowledgements".
In this session, we will explore:
why we should cite our sources for our family history
how sources can be original or derivative, primary or secondary, facts vs opinions
how to cite different types of sources, which might range from written material, such as a book, a newspaper, a webpage, or oral sources, through to artefacts such as a map, a headstone, or a wedding ring inscription
citation formats (inline vs general), citation styles.
Our presenter: Dr Kerry Raymond