Ancestors from China
Presenter: Jon Kehrer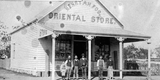 Do you have a 'Great Wall of China' in your family history research?
Whether your ancestor joined the China diaspora in Australia or elsewhere, you may be able to trace he or she to their home village in China.
Discover resources that could extend your family tree from the goldfields of Ballarat, Bendigo, Gympie and the Palmerston, and colonial New South Wales, back through more generations in China.
Jon will explore archives in China, websites worldwide, and many other possible sources in this presentation.
These resources will help you discover where your ancestor lived, their circumstances, and their ancestral relationships.
Presenter: Jon Kehrer