X marks the spot: researching cemeteries
Presenter: Helen Vince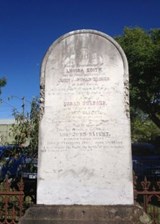 Discovering the graves of our ancestors can be extremely rewarding.
This workshop looks at the resources available for finding those grave sites.
As well as examining online resources, the workshop will provide practical tips and traps for the unwary.
Are they really in the cemetery? What does the terminology mean? Are there errors on the headstones?