Using timelines and other visual aids
Presenter: QFHS members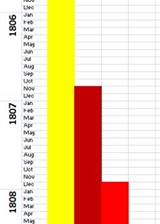 Have you ever thought about using timelines or another visual aid to solve a problem in your research or to gain insight into a situation? 
Our world relies greatly on visual imagery. A image, an graphic, a list or a table can convey a lot of information very quickly. 
In this session, some members of the Society will demonstrate the visual methods, tables, or timelines they have used in their research to solve a problem or gain further understanding of a situation or set of circumstances.
Please note: Attendees should have some familiarity with Word and Excel, as time will not permit the presenters providing detailed instructions on to how use of Word, Excel or other application.