Using GENUKI to aid family history research in the United Kingdom and Ireland.
Presenter: Dr Geoff Morgan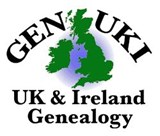 Please note: This session will be delivered online.
Register using Eventbrite. Details of how to join the session will be sent via email.
This presentation will provide you with an understanding of how this complex web-portal is structured, so that it can be used effectively during your research for ancestors who lived in the UK and Ireland.