The Ryerson Index: where we are, and where we are going?
Presenter: John Graham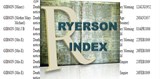 The Ryerson Index has been on the web for more than 22 years, providing a simple method for locating a published death (or similar) notice in Australian newspapers.
John will give a very brief rundown on the origins of the Index, followed by a demonstration of some of the little-known features of the website.
He will then expand on the future of Ryerson Index in an environment where newspapers as we currently know them appear to be on the road to extinction.  

Our presenter: John Graham