Remembering those who served: World War II records at the National Archives of Australia
Presenter: Cara Downes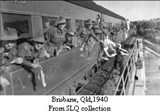 Please note: This session will be delivered online.
Register using Eventbrite. Details of how to join the session will be sent via email.
This webinar will provide an overview of the National Archives' collection relating to World War II, with a focus on the defence records of those who served with the army, RAAF, and Navy. We will showcase the National Archives' website and online database RecordSearch, where you can search for service records. The seminar will also touch on other records relating to pay, repatriation, courts-martial and civilian service.
Our speaker, Cara Downes.