Preserving your memories
Presenter: Peter Zaini and Joanne Copp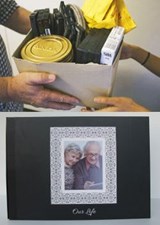 Converting your old family home movies to a digital format.
Do you have old home movies which you would like to convert to a digital form? Peter Zaini started RetroMedia in 2006, turning his life-long hobby in audio and video production into a business.
RetroMedia has a three-pronged goal. Firstly, to rescue inaccessible memories from obsolete media before they fall victim to the ravages of time, and secondly, before the playback technology disappears. Also RetroMedia aims to make it easy to share your rescued memories with family and friends. Pete looks forward to sharing his solutions for future proofing your family memories.

Create a beautiful album to store and display memorabilia and images across time.
Most of us have family memorabilia we would like to display. One option is to create an album of memories to do just this. Joanne Copp started Inicio Albums in 2007. Her handmade albums become cherished keepsakes, capturing your family's stories and special memories for you and future generations to enjoy. The albums blend both the digital and physical elements of family memories, allowing you to add to your family story over time as you discover more information and as your family expands. She looks forward to sharing with you how her albums can be used to do this.