Overseas newspapers for family history research
Presenter: Sue Reid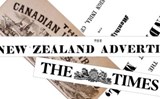 Please note: This session will be delivered online.
Register using Eventbrite. Details of how to join the session will be sent via email.
Newspapers are essential to family history research. We can find rich detail about people's personal, professional, and business lives from the content of newspapers—births, marriages, and deaths, community involvement, letters to the editor, business advertisements. There is no limit to the variety of material.
Australian researchers are well served for historic newspaper content with Trove Digitised Newspapers, but what about newspapers from overseas? What can we use?
In this presentation, Sue Reid will discuss free sources of overseas newspapers that you can use to discover more about your family.
Our speaker: Sue Reid