Inquests: Let's dig into the records at Queensland State Archives
Presenter: Niles Elvery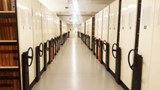 Please note: This session will be delivered online.
Register using Eventbrite. Details of how to join the session will be sent via email.
Niles will provide an introduction to what an inquest is and an overview of what inquest records are held at Queensland State Archives. He will also look at how you locate inquest documents in the new ArchivesSearch catalogue and using the indexes. Niles will also take a look at what documents you are likely to find in the inquest file and what these documents might tell you.
Our speaker, Niles Elvery