History of Brisbane trams and their contribution to Brisbane's development
Presenter: Robert Scott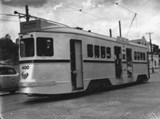 This event is postponed
Come along to hear about the introduction of trams to Brisbane in the 1880s, part of Brisbane's social heritage. The development of Brisbane's tram network is linked to the development of Brisbane suburbs and councils, including Chermside, Ithaca, Wooloowin, Hamilton, Mt Gravatt, Camp Hill, and Moorooka.
You will hear about the first power station in Brisbane city for the tram system and the network of substations along the tram routes. The open bogie cars of Brisbane trams were suited to Brisbane's sub-tropical climate.
Please note: this talk is on the third Friday of the month, as the second Friday of the month is Good Friday.