Sue Swalwell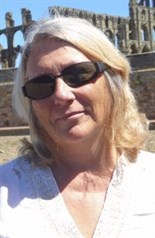 Sue Swalwell's curiosity about her family started when, as a child, she and her sister explored the hidden treasures of the attic of the Victorian farmhouse in North Yorkshire. It was packed with memorabilia; her grandfather would regale her with stories about the treasures they found and the people they featured.
When the farm was sold, all the contents of the attic were to be burnt in a bonfire. Rescuing that attic treasure, which included many memorial cards, was the event that triggered more serious research of her ancestry and of the communities in which her ancestors had lived. That was over 40 years ago. Since then Sue has set up a Swalwell One-Name Study which is registered with the Guild of One Name Studies. She continues to enjoy pursuing and discovering new stories of people named Swalwell throughout history and connecting with new cousins through her Swalwell DNA project.
After retiring from a career in advertising and marketing, Sue has turned her attention to sharing some of those stories and her experiences of family history as a speaker. She has given several talks including to The Society of Genealogists, Who Do You Think You Are Show, Family Tree Live, The Halsted Trust's Secret Lives Conference, and Unlock the Past Cruise 2019.