Home
Date and time: 11 Apr 2021 2:53 PM
QFHS Library and Resource Centre - Opening Hours

Sunday 
Monday
Tuesday
Wednesday
Thursday
Friday
Saturday

12:00 pm -  3:00 pm
  6:00 pm -  9:00 pm  (2nd and 3rd Mondays of the month only.)
10:00 am -  3:00 pm
10:00 am -  3:00 pm
10:00 am -  3:00 pm
Closed
10:00 am -  3:00 pm


Please check here for exceptions to opening hours.
Members and visitors are not required to wear facemasks, but please adhere to the 2 square metre rule. Details here
QFHS Queensland Family Historian Editorial Team
 Runner-up in the 2020 Nick Vine Hall Award

The Nick Vine Hall Award is made annually to member societies
for the best family history journal/newsletter in 
Australia and New Zealand.
 The Queensland Family Historian Editor, Lyndal Cosgrove,

with QFHS President, Chris Gibbs.
Lyndal Cosgrove 
2020 QFHS Services to Family History Award
This is presented annually to QFHS members who have
made a significant contribution to family history.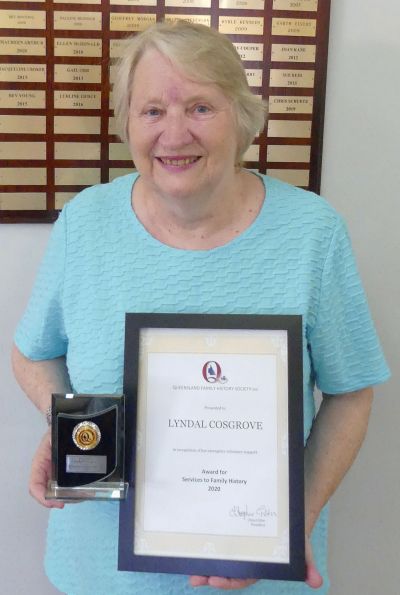 Lyndal Cosgrove
Lyndal is the editor of the Queensland Family Historian,
a member of the QFHS Management Committee,
and Speaker Coordinator for the Members' Meetings.
Sue Reid - our newest Fellow

Sue Reid has been admitted as a
Fellow of the Queensland Family History Society.
This is the highest honour the Society can bestow.

Sue has made outstanding contributions to many aspects of the Society.
Her dependable leadership, knowledge, supportive engagement and
hard work have delivered substantial and ongoing benefits.

Congratulations Sue and thank you for your exemplary service to our Society.
Fridays@QFHS
Fridays@QFHS are now being offered online
QFHS and the Coronavirus (COVID-19)
Our Library and Resource Centre has re-opened. If you are not yet comfortable attending the library in person you can visit online.
Members can:
Contact askqfhs@qfhs.org.au with your research queries and requests for assistance

Come to our many interest group meetings and events now being held online

View our Online Access materials, with more datasets, information pieces and presentations being added each week

Use Ancestry, MyHeritage, Findmypast, TheGenealogist, Irish Ancestors at home

Receive our special Snippets monthly with plenty of ideas to help your family history activities
We'll keep you posted on any further changes. Do please take care in these extraordinary times.

April 2021
February 2021
Consolidated Index to the Queensland Government Gazette 1859-1919
An index of 124,395 entries to Notices in the Queensland Government Gazette between 1859 and 1919.
Search all our datasets in one easy action.
Go ahead and try it. Enter your keyword. e.g. surname, given name, place name, occupation. If you are searching on more than one term, separate your keywords by a space or an asterisk. Read About Global Keyword Searching at the top of the search box for more hints.
Ask QFHS
Do you have a quick family history or genealogy question?
Our new "Ask QFHS" service will connect you with one of our panel of experienced members to help. For example, help with:
Finding out how to use a particular website or resource

Understanding an unfamiliar term or phrase in a record

Get recommendations for where to find records

and more…
Email askqfhs@qfhs.org.au and find out how we can help.

---
See more of our news
on our News Page