Home
Date and time: 19 Oct 2021 10:23 PM
 Important Information
Sunday Closure
The QFHS Library and Resource Centre will no longer be open on Sunday.
The last Sunday opening will be Sunday 31 Ocotber 2021 

August 2021
July 2021
Search all our datasets in one easy action.
Go ahead and try it. Enter your keyword. e.g. surname, given name, place name, occupation. If you are searching on more than one term, separate your keywords by a space or an asterisk. Read About Global Keyword Searching at the top of the search box for more hints.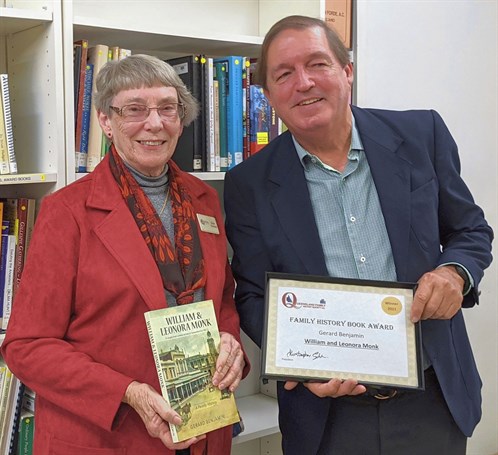 QFHS Book Award 2021
presented to
Gerard Benjamin
for his book
William & Leonora Monk
pictured here with Book Award Coordinator, Gayle Thomsett
at the
QFHS Annual General Meeting 
(This book is available on the QFHS website. Select the book title above.)
QFHS Library and Resource Centre - Opening Hours

Sunday 
Monday
Tuesday
Wednesday
Thursday
Friday
Saturday

12:00 pm -  3:00 pm  (We will be closed on Sundays from November)
  6:00 pm -  9:00 pm  (2nd and 3rd Mondays of the month only.)
10:00 am -  3:00 pm
10:00 am -  3:00 pm
10:00 am -  3:00 pm
Closed
10:00 am -  3:00 pm

Fridays@QFHS
Fridays@QFHS are now being offered online
QFHS Management Committee 2021­–2022

President: Kevin Haley

Vice President: Chris Schuetz 

Secretary: Elaine Eager

Treasurer: Doug Eager 

Committee Members:
 
 
Lyndal Cosgrove   
Clem Ditton  
  Lyn Hooper   
 Eric Kopittke
Sue Reid
 


QFHS and the Coronavirus (COVID-19)
Our Library and Resource Centre has re-opened. Guidelines for visiting safely at present are here. If you are not yet comfortable attending the library in person you can visit online.
Members can:
Contact askqfhs@qfhs.org.au with your research queries and requests for assistance

Come to our many interest group meetings and events now being held online

View our Online Access materials, with more datasets, information pieces and presentations being added each week

Use Ancestry, MyHeritage, Findmypast, TheGenealogist, Irish Ancestors at home

Receive our special Snippets monthly with plenty of ideas to help your family history activities
We'll keep you posted on any further changes. Do please take care in these extraordinary times.
Ask QFHS
Do you have a quick family history or genealogy question?
Our new "Ask QFHS" service will connect you with one of our panel of experienced members to help. For example, help with:
Finding out how to use a particular website or resource

Understanding an unfamiliar term or phrase in a record

Get recommendations for where to find records

and more…
Email askqfhs@qfhs.org.au and find out how we can help.

---
See more of our news
on our News Page