Home
Date and time: 28 Nov 2021 4:02 AM
Gift Memberships now available  $70
Sue Reid - our newest Fellow

Sue Reid has been admitted as a
Fellow of the Queensland Family History Society.
This is the highest honour the Society can bestow.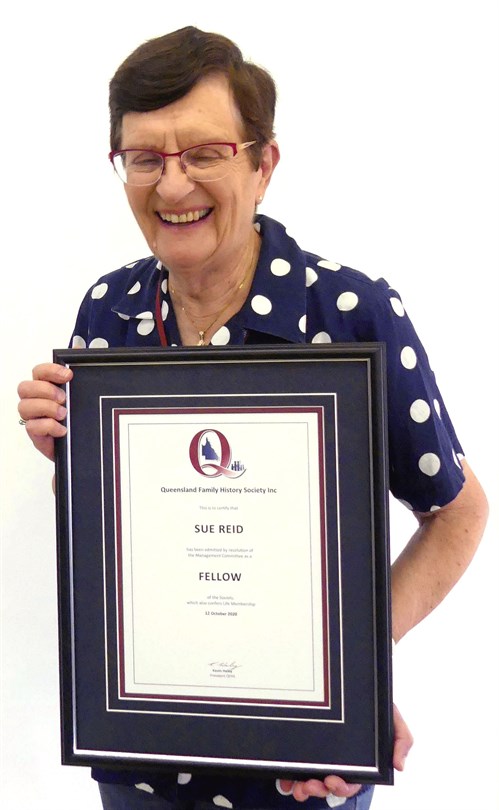 Sue has made outstanding contributions to many aspects of the Society.
Her dependable leadership, knowledge, supportive engagement and
hard work have delivered substantial and ongoing benefits.
Congratulations Sue and thank you for your exemplary service to our Society.
Leanne Donovan 
2021 QFHS Services to Family History Award
This is presented annually to QFHS members who have
made a significant contribution to family history.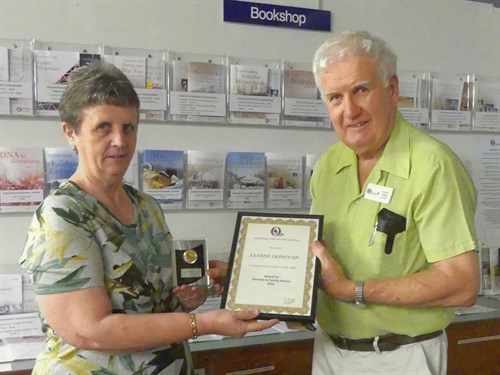 Leanne Donovan is the Society's Membership Secretary, a role which demonstrates

her exemplary administrative and people skills. Leanne also manages QFHS book sales. Leanne is known for her dependability and friendly manner.
 

 

 

 

 

 

Share the joy of family history

Give a

Just in time for the gift-giving season

Easy to do

Money-back guarantee

We are excited to announce that Gift Memberships are here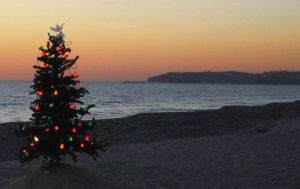 We wish all our members and friends a
Happy Christmas
and a
Wonderful New Year.
Our Library and Resource Centre will close on
Saturday, 11 December 2021 at 3:00 pm
and reopen on 
Monday, 10 January 2022 at 6:00 pm
Welcome to our newest Special Interest Group

 Important Information
Sunday Closure
The QFHS Library and Resource Centre will no longer be open on Sunday.
The last Sunday opening was Sunday 31 October 2021 
QFHS Library and Resource Centre - Opening Hours

Sunday 
Monday
Tuesday
Wednesday
Thursday
Friday
Saturday

Closed
  6:00 pm -  9:00 pm  (2nd and 3rd Mondays of the month only.)
10:00 am -  3:00 pm
10:00 am -  3:00 pm
10:00 am -  3:00 pm
Closed
10:00 am -  3:00 pm

QFHS members can access Ancestry, The Genealogist, My Heritage, and Irish Ancestors from home 

during the COVID-19 pandemic

Ancestry will be ceasing this service on
31 December 2021


Ancestry will be avaialble at the QFHS Library and Resource Centre only 

 

TheGenealogist
More information here

John Grenham has generously provided access to
Irish Ancestors

 

And, do not forget

 

 

Findmypast ceased this service on
18 November 2021

Findmypast will be avaialble at the QFHS Library and Resource Centre only 
QFHS Management Committee 2021­–2022

President: Kevin Haley

Vice President: Chris Schuetz 

Secretary: Elaine Eager

Treasurer: Doug Eager 

Committee Members:
 
 
Lyndal Cosgrove   
Clem Ditton  
  Lyn Hooper   
 Eric Kopittke
Sue Reid
 


QFHS and the Coronavirus (COVID-19)
Our Library and Resource Centre has re-opened. Guidelines for visiting safely at present are here. If you are not yet comfortable attending the library in person you can visit online.
Members can:
Contact askqfhs@qfhs.org.au with your research queries and requests for assistance

Come to our many interest group meetings and events now being held online

View our Online Access materials, with more datasets, information pieces and presentations being added each week

Use Ancestry, MyHeritage, Findmypast, TheGenealogist, Irish Ancestors at home

Receive our special Snippets monthly with plenty of ideas to help your family history activities
We'll keep you posted on any further changes. Do please take care in these extraordinary times.
Ask QFHS
Do you have a quick family history or genealogy question?
Our new "Ask QFHS" service will connect you with one of our panel of experienced members to help. For example, help with:
Finding out how to use a particular website or resource

Understanding an unfamiliar term or phrase in a record

Get recommendations for where to find records

and more…
Email askqfhs@qfhs.org.au and find out how we can help.