Home
Date and time: 23 Feb 2020 2:23 PM
Click here for
 QFHS Membership Renewal
---
Important Notice
QFHS Library and Resource Centre
Urban Utilities work in Bellevue Avenue
These works are complete.
Access to QFHS is once again straightforward, via Bellevue Avenue.

Data now available to members ONLINE 
Commonwealth Electoral Rolls (Queensland) 1969

Queensland School Pupils Index (Part 1-6)

Queensland Schools Past and Present
Note: Some of this data is not available on Findmypast, MyHeritage, FamilySearch or Ancestry
This is the first of many datasets that will be released for members to search from home. Future datasets will include:
Customs House shipping lists
More cemetery records
Railway employees
and much more.
---
Services to Family History
2019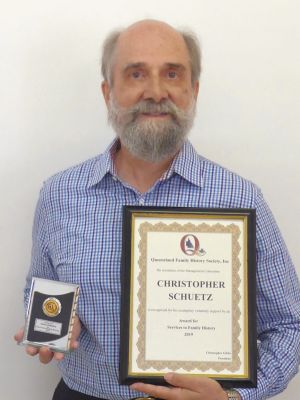 Chris Schuetz 
---
Beyond BMDs
Researching your English ancestors
Presented by Unlock the Past
 
Take your English research further with two of the foremost,
internationally recognised, English experts
Else Churchill and Alec Tritton.
Thursday 26 March 2020    9am – 5pm
Gaythorne RSL Club
534 Samford Road, Mitchelton, Qld
Entrance to car park from Tel El Kebir Street
---
---
Our Future
The third communique about possible amalgamation of the Queensland Family History Society and the Genealogical Society of Queensland has been sent to members.
The communique outlines the ongoing activities of the Amalgamation Sub-Committee in seeking suitable premises, membership arrangements, partnering with others, bringing the Societies together, and pre-amalgamation planning.
Future communiques will provide regular updates on the discussions and investigations.
Members can read more here along with details of how to have your say.
---
---

QFHS has purchased a subscription to MyHeritage. This exciting initiative enables financial members to access
at the library and from their home computers via the QFHS website. MyHeritage can help you with your genealogy search. Its genealogy search engine allows you to search thousands of databases simultaneously. In one search, you can cover multiple spelling variations, phonetic synonyms, and much more.
 Note: If you are a financial member of QFHS but have not advised your email address you will be unable to access MyHeritage on your home computer. To update your contact details email membership@qfhs.org.au
---

---
See more of our news
on our News Page