Home
Date and time: 18 Dec 2018 9:50 PM
QFHS Membership Renewal links
---
Lyn Hooper
received an
Everton Electorate
Volunteer Award
on Sunday 4 November 2018.
Congratulation, Lyn
---
Clem Ditton and Bob Thistlethwaite received their
QFHS Pre-Separation Certificates
at the Members' Meeting on 17 October 2018
---
Open Day
25 August 2018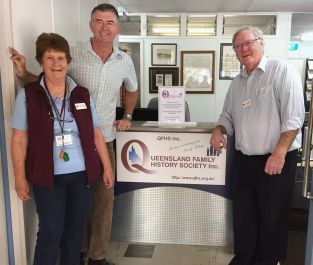 Bev Young, QFHS President,
Tim Mander, Member for Everton,
Bob Thistlethwaite, QFHS Secretary
---
Finding your family
July-August 2018
Carolyn giving her
final Presentation
---
NEW
Colonial India and Far East
Special Interest Group

Join us exploring the lives of individuals and families in Colonial India and the Far East and the places and times in which they lived.
Colonial India at various times included: India (including the areas now known as Pakistan and Bangladesh), Ceylon (Sri Lanka), the Nicobar and Andaman Islands, Assam, Burma (Myanmar), Kashmir, and the Persian Gulf Residency.
The first meeting is on 12 August at 10.30 am.
---
Charlotte Sale and Lisa Louise Cooke
---
---

QFHS has purchased a subscription to MyHeritage.
This exciting initiative enables financial members to access
MyHeritage
at the library and from their home computers
via the QFHS website.
MyHeritage can help you with your genealogy search.
Its genealogy search engine allows you to search
thousands of databases simultaneously.
In one search, you can cover multiple spelling
variations, phonetic synonyms, and much more.
 Note: If you are a financial member of QFHS but have not advised your email address you will be unable to access MyHeritage on your home computer. To update your contact details email membership@qfhs.org.au
---

---
See more of our news
on our News Page