Home
Date and time: 22 Nov 2017 5:39 PM

QFHS has purchased a subscription to MyHeritage.
This exciting initiative enables financial members to access
MyHeritage
at the library and from their home computers
via the QFHS website.
MyHeritage can help you with your genealogy search.
Its genealogy search engine allows you to search
thousands of databases simultaneously.
In one search, you can cover multiple spelling
variations, phonetic synonyms, and much more.
 Note: If you are a financial member of QFHS but have not advised your email address you will be unable to access MyHeritage on your home computer. To update your contact details email membership@qfhs.org.au
---

FamilySearch Update
As you know, FamilySearch discontinued its
80-year-old microfilm distribution service.
Read more>>>
You may also know that FamilySearch
makes its digital image collections accessible
on the FamilySearch website.
We are pleased to announce that, as a
FamilySearch Affiliate Library,
our members may now access a range of
digitised microfilms using the computers
at our Library and Resource Centre.
Read more here: FamilySearch Digital Images
---
2017 Pre-Separation Awards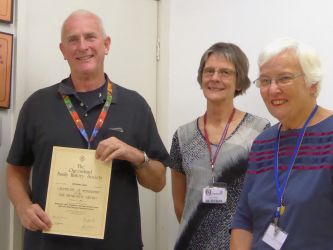 Graeme Lean receiving his
Pre-Separation Certificate
on Wednesday 18 October 2017 with 
QFHS Pre-Separation Group Convenors
Jenny Davidson and Ann Swain 
---

---
See more of our news
on our News Page